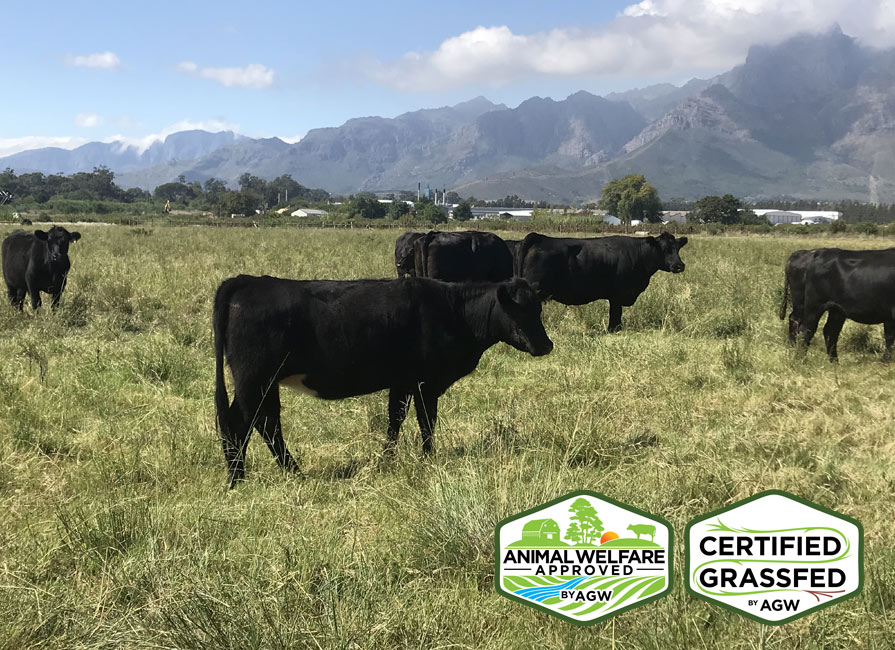 Boschendal – South Africa
One of the oldest farms in South Africa, founded in 1685, Boschendal farm is set in the Drakenstein Valley surrounded by dramatic mountain landscapes, lush gardens and vines, and the original farmstead complex with a history which dates back more than 300 years.
Today, Boschendal is a Cape winelands icon and a cherished wine and food destination. The vineyards and fruit trees have been joined by vegetable gardens and a growing herd of Certified Animal Welfare Approved by A Greener World (AGW), Certified Grassfed by AGW Angus cattle along with Certified Animal Welfare Approved by AGW pigs, reflecting Boschendal's commitment to serving wholesome farm-to-table food.
The cattle at Boschendal are rotationally managed, grazing one section of pasture before being moved to fresh fields. This type of management allows grass to recover before cows return to graze again; it also keeps the soil properly fertilised and minimises the build-up of internal parasites, thereby avoiding reliance on chemical treatments.
In addition to being Certified Animal Welfare Approved by AGW, the cattle herd at Boschendal is Certified Grassfed by AGW. Developed at the request of farmers and consumers seeking a meaningful grassfed label, Certified Grassfed by AGW guarantees food products come from animals fed a 100% grass and forage diet, and are reared entirely outdoors on pasture or range. "The natural diet that our animals eat makes our meat not only delicious but also nutritionally beneficial to the consumer. The long-term effects of hormones and antibiotics that are fed to livestock and subsequently consumed by humans are only now beginning to be investigated, and the results are far from encouraging. Raising our livestock the natural way allows us to produce meat that is lower in saturated fat, higher in vitamin E, and has a balance of omegas 3 and 6. This is good news for the consumer's health," says Jason Carroll, the Livestock Manager at Boschendal farm.
Along with outdoor access, the beef cattle and pigs at Boschendal are also raised with the highest welfare standards available, as verified by their AGW certification. "At Boschendal, we are leading by example in a world that is becoming more centred on going green and treating animals humanely. We are raising our cattle the way that nature intended by allowing them to move around in a natural habitat while simultaneously eating what their bodies are made to process. We care about our animals and we care about what our guests are eating. We are raising good, hearty, natural beef and we control the whole process from farm to plate, thus allowing us to guarantee that our product is of top quality."
Certified Animal Welfare Approved by AGW, Certified Grassfed by AGW beef and Certified Animal Welfare Approved by AGW pork from Boschendal is available direct from the farm. For more information about Boschendal or to purchase their products, visit boschendal.com or contact the farm at enquiries@boschendal.co.za. Follow Boschendal on Facebook, Twitter and Instagram.