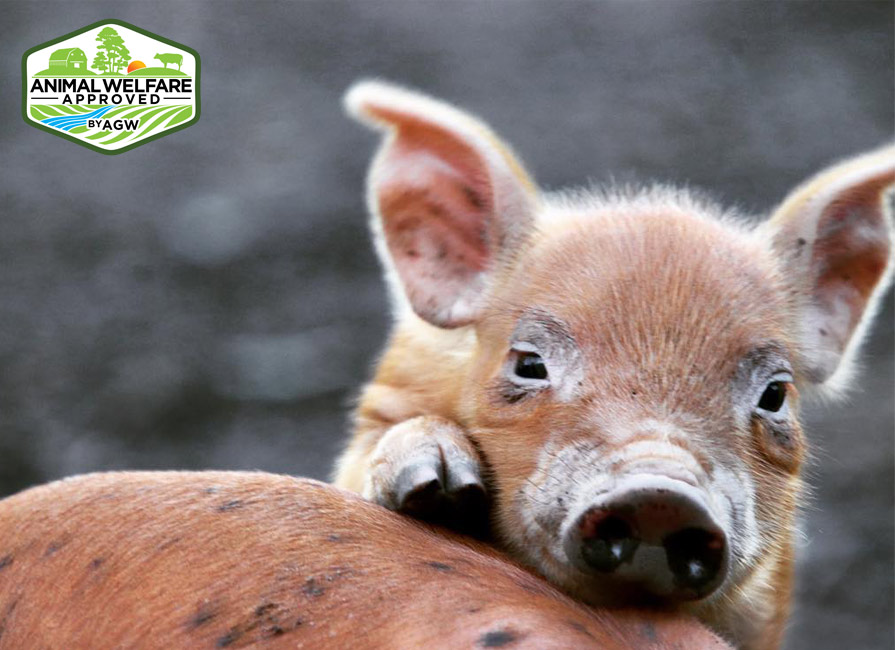 Boschrivier Farm — Wittedrift, Western Cape
Hannes and Nicky du Plessis, along with Gerhard and Maggie Steyn, raise Certified Animal Welfare Approved by A Greener World (AGW) pigs and laying hens at Boschrivier Farm in Wittedrift, Western Cape.
Boschrivier Farm is situated in the Wittedrift valley, just outside Plettenberg Bay, which was historically a floodplain. The farm has deep fertile soils and is made up of species-rich grass pasture surrounded by tree bands and thicket, with rain throughout the year and a stream flowing across the property all year round.
The pigs at Boschrivier Farm are Sandveld-cross-Duroc pigs, which Hannes says is an ideal mix for a pasture-based pig operation. "These pigs are hardy and do not require a lot of attention," he explains. "They live in large camps mostly located in the treebands and thickets on the farm." They have six sows and two boars that are used for breeding, with around 50 growers at any given time. "We are constantly moving the pigs around so that our pasture can recover and also to keep the parasite load and disease risks to a minimum," says Hannes. Boschrivier Farm is also home to a flock of pasture-raised laying hens, which roam freely around the farm.
With the growing disconnect of consumers from the source of their food—and growing demand for meaningful welfare standards—Boschrivier Farm found it essential to have third-party validation demonstrating their exceptional practices to a market hungry for truthful information about their food. "Welfare of our animals is our most important core policy," says Hannes. "We believe that if animals have to be farmed, they deserve the best life possible until they are slaughtered. We share A Greener World's values and believe that by joining associations like A Greener World, we can help educate people on ethical farming practices and make our customers aware of how important these values are to us."
Boschrivier Farm's Certified Animal Welfare Approved by AGW pork and eggs are sold direct from the farm, as well as at regional stores. For more information about Boschrivier Farm—or to purchase their products—visit the farm's website boschrivier.co.za. Contact the farm at info@boschrivier.co.za and follow news and product announcements from Boschrivier Farm on Facebook and Instagram.